RESOURCES TO HELP YOU GET
THE MOST OUT OF THIS SPECIAL PRAYER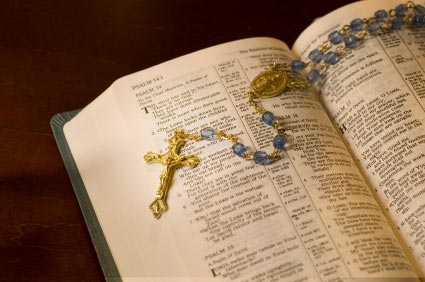 Do you think of the Rosary as something boring?

Is it a prayer you keeping meaning to say, when you remember, but somehow you never get around to it?

Does praying the Rosary strike you as a chore like eating your vegetables (not including French fries!), something you know you should do more?

Or perhaps you've heard it's just for people in prayer shawls kneeling in pews? Or that it's just a mindlessly repetitive prayer?
We have some good news! Nothing could be further from the truth! This prayer is meant for everyone. And, as Father Benedict Groeschel put it in The Rosary: Chain of Hope (one of our selections below) meditiating in the Rosary gives us "an easy way to come into contact with the presence of God, Our Lady, and the Saints." How, you may ask? Simple!
BOOKS TO HELP YOU WITH YOUR MEDITATIONS
The Rosary takes us through 20 "Mysteries," important events in the lives of Jesus and Mary. (Don't feel intimidated by the word "mystery." There's nothing to solve here!) Several of the books we have listed here below provide thoughts for meditation (including quotes from scripture) to help you feel like you're right in the middle of these mysteries! And, what's more, they deal with the distractions we all face in praying the Rosary and help you manage them better. As a further aid, we're including How to Pray the Rosary, an informative, colorful pamphlet from Our Sunday Visitor Publications with each order!
Please click on the link next to each title, or the title itself, for more information on each selection.